Jenny McCarthy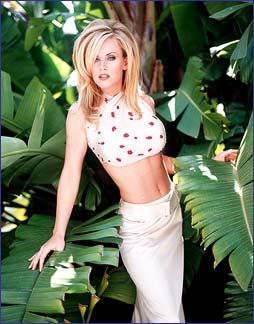 JENNY MCCARTHY has a great personality. Her vivacious charisma, snappy
banter, and amusing facial expressions on MTV's Singled Out, a hyper-charged
nineties version of The Dating Game, made the should-be stupid game show
somehow bearable--nay, hypnotic. But McCarthy's show-business attributes
extend beyond mere personality--the twenty-three-year-old former Playboy
centerfold exhibits such profound perkiness that Hollywood producers have
ignored her meager résumé and inundated her with proposals for game shows,
talk shows, and sitcoms.

Just a few short years ago, in 1992, McCarthy was scrambling for funds to
finance her second year of nursing studies at Southern Illinois University. She
decided to quit school and embark on a modeling career, only to be told she was
too curvy. She realized that Playboy prefers full-figured women over waifs, and
hand-delivered photographs of herself to the magazine's Chicago office. The
editors liked what they saw and paid McCarthy $20,000 to pose as Miss October
1993. A few months later, she won the Playmate of the Year title and $100,000 in
cash and prizes. Now a certified babe, McCarthy moved from her native
Chicago--where she grew up with three sisters, a stay-at-home mom, and her
father, a steel-plant foreman--to Los Angeles in search of stardom.
Hollywood auditions proved difficult to come by, and it took incessant badgering
from Ray Manzella, McCarthy's forty-seven-year-old manager and live-in
boyfriend, to land an interview at MTV. The network's producer liked what they
saw and hired McCarthy to co-host Singled Out, which debuted in the summer of
1995. Funny, telegenic, and able to manhandle fifty testosterone-swollen
contestants without incurring (or committing) bodily harm, McCarthy was an
immediate success. MTV was eager to retain its hot property and coughed up a
$500,000, one-year contract that promotes McCarthy to full-fledged VJ and gives
her carte blanche to create a program of any format that best suits her talents.
McCarthy recently opted to bow out of her host responsibilities on Singled Out to
concentrate her attention on creating a new MTV sketch-variety series, The
Jenny McCarthy Show, which will be, in her words, "kind of like Lifestyles of
the Rich and Famous on acid." She is also developing another sitcom for NBC,
which positions McCarthy as an East Coaster who inherits a Hollywood mansion
and gets a job as a movie star's personal assistant.

Playboy, too, was keen to further its relationship with McCarthy; it offered
$500,000 to snap more nude photos. When McCarthy demurred, claiming that
this was not the career path she was presently pursuing, the magazine settled for
rerunning old pics. Although she also declined proposals from Fox and NBC,
McCarthy is nonetheless venturing beyond teen-oriented cable channels and
gentlemen's magazines. She appeared as "blonde nurse" in Things To Do in
Denver When You're Dead (1995) and, later, portrayed her first substantive
screen character (a neurotic movie star) in The Stupids (1996), opposite Tom
Arnold. It seems McCarthy is heeding and exceeding advice that her mother
proffered years ago: "Be like Vanna White."
[ BACK TO JENNY McCARTHY ] [ JENNY McCARTHY'S PHOTO GALLERY ]
[ BACK TO THE MODELS & ACTRESSES HOME PAGES ]

© 1997,1998 Tony L.
tlaboy@usa.net